Easy Muscle-Building Chili: How to make the perfect bowl (with photos and recipe)
Learn how to make an easy and cheap muscle-building chili.
There are two big reasons most guys have trouble building muscle, and they have nothing to do with working out:
 Most guys don't eat enough food to gain muscle.
 Most guys don't like to cook. (Or they don't know how.)
Enter the bowl of chili.
It's the easiest (and cheapest) muscle-building meal you can make. It's loaded with protein, vegetables, and — if you follow the recipe below — it tastes amazing.
Can you chop a couple vegetables and throw some stuff in a pot? Can you wait an hour? Can you drink a beer and listen to music?
Then you can make this chili.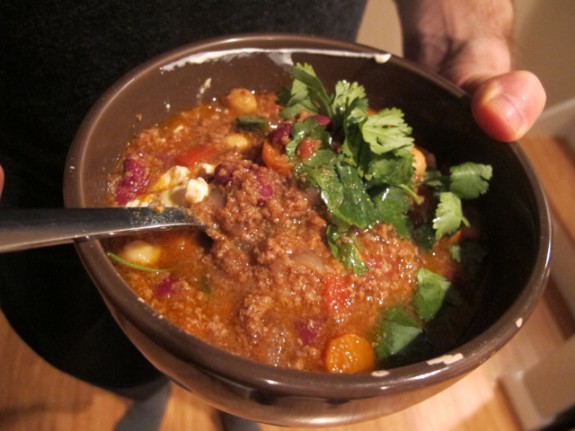 What's In It
Makes 4 huge bowls. Total cost: $28.00
2 pounds ground beef
2 red bell peppers
3 carrots
1 huge onion
3 celery stalks
2 cans diced tomatoes
1 can garbanzo beans
1 can kidney beans
3 garlic cloves
1 can of spicy vegetable juice
1 bunch of fresh cilantro
Stuff you should have lying around
2 tsp chili powder
1 tsp cumin
1 tsp cinnamon
olive oil
salt
pepper
balsamic vinegar
Tools
1 big pot with cover
1 wooden spoon
1 cutting board
1 chef's knife
Other stuff you'll want
beer (because you can)
music (because cooking in silence sucks)
How To Make It
Stage 1: Prep
Peel the carrots, remove the outer skin from the onion, remove the seeds from the bell peppers, and wash everything in cold water.

 Remove the cilantro leaves from the stalks, wash in cold water, and set aside both leaves and stalks.
Chop all the vegetables into 1/2 inch cubes and set aside. Finely chop the cilantro stalks. Remove the skin from the garlic and finely chop.
Wipe the tops of the cans with a damp napkin to remove any dirt.
Open the beans and rinse in cold water.
Open the tomatoes and set aside.
Grab your ground beef and remove from the wrapping. Set aside.
Grab your spices and set aside.
Turn a stove-top burner to medium-high and add a couple lugs of olive oil.
Take a drink of beer.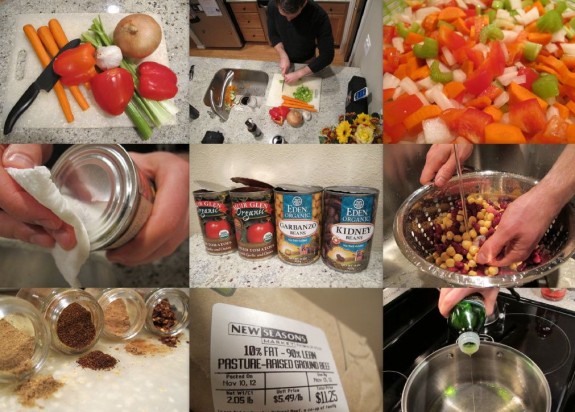 Stage 2: Throw everything in
Once the olive oil has warmed up (takes about one minute), toss your carrots, celery, bell pepper, onion, and garlic into the pot and cook for 10 minutes. 

Stir continuously so nothing burns or sticks to the pan. Add more olive oil if necessary.
After the 10 minutes are up, add your chili powder, cumin, and cinnamon. Stir.
Add both cans of tomatoes.
Take one empty can and fill it with the spicy vegetable juice. Pour it in.
Crumble the ground beef into the pot. (Wash your hands after.)
Add the chopped cilantro stalks.
Add two Tablespoons of balsamic vinegar.
Sprinkle some salt and add a couple pinches of black pepper. Stir.
Bring the chili to a boil then reduce the heat to "low" and cover the pot.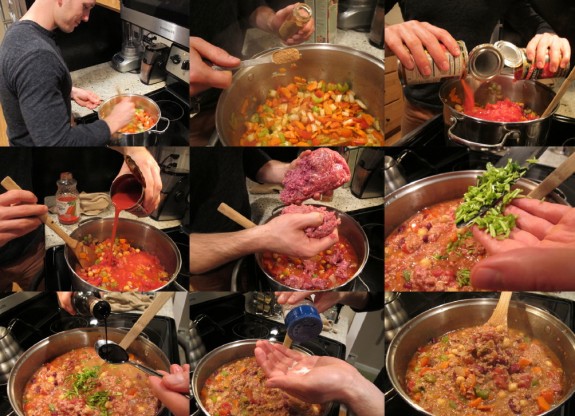 Stage 3: Wait
Cook on low heat for an hour, stirring occasionally, and find something else to do with your time. Hang out with a pretty girl. Have another beer. Watch a couple episodes of 30 Rock. Use your imagination.
Stage 4: Add toppers and eat
After the hour is up, spoon yourself some chili. Add one or two of these and enjoy:
Red pepper flakes
Dark chocolate
More salt
Cilantro leaves
Sour cream
Cheddar cheese
Your Turn
What's your "go-to" easy-to-make muscle-building meal? Let us know in the comments.
121 Responses to Easy Muscle-Building Chili