My Success Is a Lie (How To Avoid Feeling Like a Fraud)
I skipped college and the "Traditional Career" to do my own thing. Then I started to panic. I felt like a fraud. Here's how I overcame my own self-doubt (and how you can too).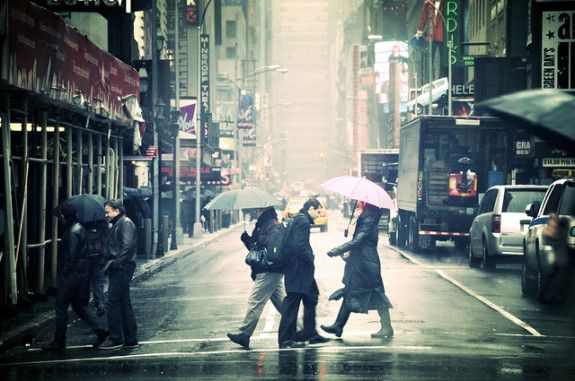 "I kind of feel like a fraud."
It was early 2009 and my friend Matt was showing me around New York City.
Matt had been pursuing an acting career for as long as I'd known him.
He'd performed at improv clubs around the city and even recently landed a few bit parts on TV shows my mom watched.
To me, it seemed like Matt was making progress.
But despite his successes, Matt felt like he was about to be "found out"; like someone would come by an audition and drag him out because he wasn't a real actor.
And as we walked down the streets of Manhattan, I realized I felt exactly the same.
I Have No Idea What I'm Doing
A few months before, my book Built For Show had hit shelves nationwide. I'd go into Borders — it still existed back then — find two or three copies of it on a bottom shelf in the back, carry them to the tables in the front of the store, and place them in front of more successful books.
I'd sit in the in-store cafe, sipping that terrible coffee, and watch people flip through it. And I'd wonder, "What if they realize I have no idea what I'm doing?"
It's not that I didn't believe in my material. The advice in the book was solid. I knew it'd help anyone who read it.
But I was a 23-year-old kid with no college education, a small personal training studio in Montana, and some unpaid bills.
Who the hell did I think I was?
It was only a matter of time, I thought. Only a matter of time before everyone realizes I have no business doing any of this.
At any moment, I would be exposed as a fraud. On a large scale. And it scared the shit out of me.
The Traditional Career vs Doing Your Own Thing
Feeling like a fraud or being worried that you're gonna be "found out" is a common mindset for people who aren't following a conventional career path.
Doing your own thing is always uncertain, with no clear signals that what youre doing is right. Meanwhile, the Traditional Career — which has been around for decades — is full of milestones.
The Traditional Career:
Graduate high school
Go to college
Graduate college
Land a job as "Bringer of Coffee"
Work your way up to Senior Vice President or something
Rinse and repeat until you're 65
Retire.
All done! You can go on vacation and die now!
The Traditional Career is nice and tidy and predictable. It's full of "Congrats! You made it!" milestones.
But when you're doing your own thing, it's tricky to spot the difference between accomplishments and setbacks. You're just feeling it out and making assumptions.
When I graduated high school in 2003, I didn't know anyone else who skipped college to start a business instead. In my community, there were only two options:
Go to college, become successful, and be congratulated.
Skip college, work a shitty job, and be pitied.
I was doing something different, and once I started to succeed, I felt like I was gaming the system.
I started to feel like a con artist. A cheater.
That's when my inner voice started to yell at me and I started questioning everything:
Should I really be training clients? I don't have an exercise physiology degree.
Should I really be writing articles? I didn't go to school for that.
There are people way smarter than me out there.
Maybe I'm a fraud.
The Traditional Career Isn't Working
My story used to be uncommon. It used to raise eyebrows. "You didn't go to college?! How did you pull this off?"
But in the last few years the failings of the Traditional Career are starting to make their way into the spotlight.
Here are a few troubling statistics about college: the average college grad leaves school sporting nearly $29,000 in debt, but starts his career on a salary of about $46,500; the typical monthly payment on those loans is just shy of $300; more than a third of college grads are underemployed.
Clearly, this isn't working out.
But the News Isn't All Bad
In response, something interesting is happening: society seems to be offering advantages to people who don't follow a traditional path.
This is scary for most people. And it's hard.
But it's also a huge opportunity.
If the failure of the Traditional Career has a silver lining, it's this: more people are starting businesses and becoming entrepreneurs — as James Altulcher puts it, people are starting to choose themselves.
But many of these new entrepreneurs feel like they don't deserve it. I get contacted by people who feel like they've pulled one over on the world, just like I did.
They feel like frauds.
How to Stop Feeling Like a Fraud
After struggling with my own fraudulence for a while, I figured out two things that seemed to cause the feeling:
I hadn't defined what success meant to me
I didn't know the difference between "good uncomfortable" and "bad uncomfortable"
1. Define What Success Means to You
In the Traditional Career, "success" was graduating college and getting a job. But we're playing by a different set of rules now, and we can't compare this new approach to the old measures of progress.
To you, maybe success is living and working wherever you want. Or a certain amount of income every month. Or fewer hours working each week.
Maybe it's being able to take your daughter to school every day and pick her up in the afternoon, or waking up every morning feeling optimistic and liking who you are when you go to bed at night.
And maybe it changes over time. When I first set out on this path, I wanted to make enough money to buy a mansion with a chocolate fountain and a spaceport; now my goal is to find the right balance between quality work and quality time with the people I care about.
You have to identify success on your own terms.
Once I defined what "success" meant to me, I had a way to validate what I was doing. I wasn't gaming the Traditional Career anymore.
I'd invented my own rules for the game.
2. Learn the Difference Between "Good Uncomfortable" and "Bad Uncomfortable"
Part of doing your own thing is learning to be comfortable being uncomfortable. In other words, there will be times (lots of them) where you won't know what to do in a certain situation.
It's a good thing. That's how you grow.
Unless it's a bad thing.
Doing your own thing centers around knowing what you can actually handle and what you're just not ready for.
Back when I was training clients eight years ago, I worked with a professional hockey player.
I was 20-year-old kid with a shitty personal training certificate. I had absolutely no business working with pro athletes.
While things didn't end in disaster — far from it actually — I felt like a fraud the entire time. I felt like if people knew how far I was out of my scope, they'd take away my credentials. Blast me on the Internet. Put me in trainer jail.
And when it came to Built For Show, the simple truth is I felt like a fraud because I didn't think 23-year-olds should write books. I remember sending an email to AJ Jacobs, one of my favorite writers, to tell him I'd just been published.
The first sentence of his reply said, "Congrats on the new book. You're alarmingly young."
Alarmingly? That's not the adjective I wanted to hear. I read that sentence and alarms started sounding in my head.
The Bad Uncomfortable.
I shouldn't have taken on a professional athlete so early in my career.
It worked out, but I felt like a fraud. In that case, it's because I was trying to leapfrog the whole "experience" part of the job.
I was "bad uncomfortable", and it was dangerous. I realized that, and I didn't train another professional athlete until a few years later when I felt confident I could help them safely.
The Good Uncomfortable.
I'm glad I wrote the book when I did.
It was okay for me to write a book targeted to young guys who wanted to work out and meet girls. I may have been "alarmingly young", but I was certainly qualified to write about the subject. All of the alarms were from leaving my comfort zone and pushing myself through an imaginary barrier.
I was "good uncomfortable", and that discomfort furthered my career and led to personal growth.
We're Not Frauds
I caught up with Matt recently. Five years after our talk in New York City, things are going very well for him. His acting career is taking off. You may have seen him as Officer Bennet on the new Netflix show, Orange is the New Black.
He's not a fraud. He's an actor.
And me? I'm happy. Things are awesome. Better than ever. I'm trying to add as much value to the world as I can, and I'm surrounded with people who make my life better.
I still have no idea what the hell I'm doing.
The only difference?
I don't feel like a fraud anymore.
29 Responses to My Success Is a Lie (How To Avoid Feeling Like a Fraud)