Muscle Kitchen 101: The food, tools, and supplements every healthy guy should have ready
From the fridge to the cupboards, we go through the must-have muscle-building materials. How does your kitchen stack up?
Here at S2B we like to give our guys real, actionable steps to follow. Why? Because our "keep it simple" methods work. Through our muscle-building coaching program, we help more skinny guys build muscle than anyone else in the world.
In other words: We want to give you the goods so you can start right away.
So here's what should be in your kitchen if you want to build a muscular, athletic body and live a bigger, healthier life.
(Note: The following is a snapshot of what's usually in our kitchens and represents a couple days' worth of food.)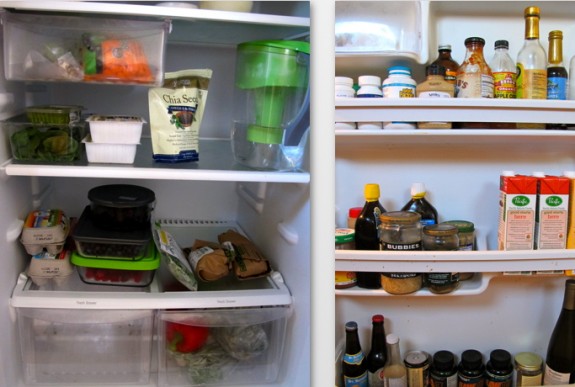 IN THE FRIDGE
PROTEIN
eggs (1 dozen)
ground beef (1 pound)
chicken breasts (1 pound)
tofu (2 packages)
salami (1 stick)
FRUITS AND VEGGIES
spinach (1 bag)
carrots (1 bag)
broccoli (1 head)
bell pepper (2)
raspberries (1 carton)
blueberries (1 carton)
cilantro (1 bunch)
basil (1 bunch)
ODDS AND ENDS
Brita water pitcher
almond milk (2 cartons)
almond butter (1 jar)
peanut butter (1 jar)
butter (1 stick)
sauerkraut (1 jar)
dill pickles (1 jar)
chia seeds (1 bag)
beer (2 bottles)
white wine (1 bottle)
(Note: Of course, the beer and wine isn't really necessary for building muscle or maintaining health. But they do taste good and are certainly fine in moderation. So, cheers.)
CONDIMENTS
hot sauce
coconut aminos
barbecue sauce
dijon mustard
salsa
apple cider vinegar
white wine vinegar
simple syrup
SUPPLEMENTS
Udo's oil (1 bottle)
Carlson's fish oil (1 bottle)
probiotics (1 bottle)
IN THE FREEZER
(1 bag of each)
broccoli florets
peas
raspberries
strawberries
blueberries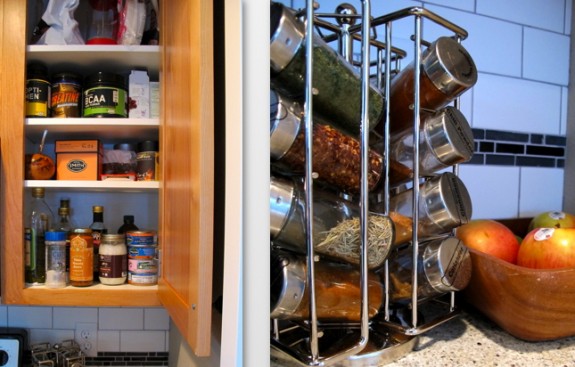 IN THE CUPBOARDS
SUPPLEMENTS
protein powder (2 containers, egg white, whey, or other)
multivitamin (1 bottle)
creatine monohydrate (1 bottle)
BCAA or post-workout drink mix (1 bottle)
ODDS AND ENDS
coffee (organic, locally-roasted)
green tea (1 box)
yerba mate tea (1 tin)
caffeine-free tea (1 box)
tuna fish (4 cans)
honey (1 small jar)
coconut oil (1 jar)
olive oil (1 bottle)
oatmeal (1 bag rolled oats)
mixed nuts (1 jar, raw)
dried coconut flakes (1 bag)
black beans (1 can)
kidney beans (1 can)
balsamic vinegar (1 bottle)
sea salt (1 canister)
pepper (1 canister)
ON THE COUNTERTOP
FRUITS AND VEGGIES
apples (3)
onion (1)
tomato (2)
lemon (2)
lime (2)
orange (1)
SPICES
(1 bottle of each)
garlic salt
cumin
chili powder
red pepper flakes
cayenne
smoked paprika
cinnamon
Italian blend
Garam masala blend
Chinese five spice blend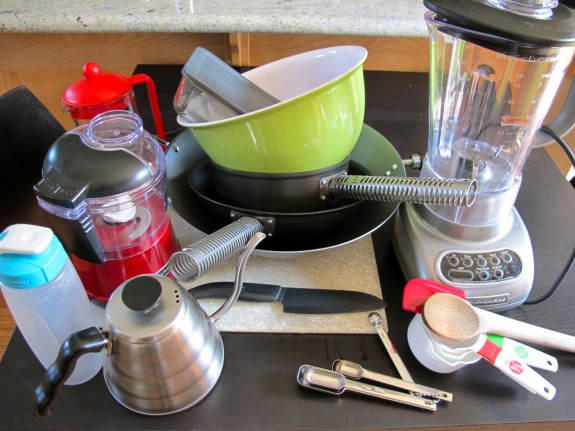 KITCHEN TOOLS 
blender
cutting board
mixing bowl
food processor
wok
omelet pan
chef's knife
saucepan
wooden spoon
rubber spatula
measuring cups and spoons
shaker bottle
tea kettle
Pyrex glass containers
YOUR TURN
How does your kitchen stack up? Anything we missed? Let us know in the comments.
And now that you know what should be in your kitchen — what should you do with all that stuff? Our suggestion: make the Ultimate Muscle Meal.
You can find it on Day 3 of our Free 5-Day Muscle-Building Course. Simply sign up below to get started.
Free 5-Day Course Start Building a Muscular, Athletic Body Today

We'll email you a link to Lesson 1 immediately. Then, each day for the next four days, you'll get an email linking to a new lesson.
*Required. By providing your email, you agree to our
Terms & Conditions, Privacy Policy, and to receive email alerts
from Precision Nutrition. You can unsubscribe at anytime.
23 Responses to Muscle Kitchen 101