How To Stay Consistent and Train Around an Injury
Tweak your lower back? Hurt your knee? It happens to the best of us. What you do next, though, is absolutely crucial. This post shows you how to avoid the physique-wrecking trap most guys fall into when they have an injury.
Sometimes minor injuries can be so frustrating or painful that we stop working out altogether. When that happens it's easy to gain fat, lose muscle, and even feel a little depressed.
In this post, S2B Coach and former Naval Special Warfare operator Craig Weller shows you how to stay consistent and build a good body, even if you get injured.
When I was going through special operations selection in the military, I developed IT band syndrome so badly in my right leg that my knee would lock up if I ran more than a couple hundred yards. When I tried to to bend it, lightning bolts of pain shot up my side.
In special ops selection courses like mine, it doesn't matter how much you suffer as long as you meet the standards and don't quit. So in order to pass, I sucked it up and ran with a locked knee, swinging it around to the side like a pirate with a peg-leg instead of bending it.
Running like this got me through the selection process, but it also produced a painful injury to deal with. The pain started at my knee and radiated throughout my body, affecting my lower back, hips, and shoulder, too.
It seemed like every time I tried to do one of my favorite exercises in the gym, I tweaked something and had to take a couple days off from training. It was frustrating as hell.
So that's when I decided to work with a coach to work around my injury, continue training hard, and get back to 100%.
After four months of working with the coach, I was a new man.
I could move better. I felt better. I even put fifty pounds on my deadlift, and ticked off a fifteen mile run without pain (and without looking like a pirate).
I'm glad I chose that path, because I nearly went the opposite way, the way most guys go when they get injured or tweak something: I almost stopped working out.
When You Stop Working Out Because of an Injury
Of course, I wasn't going to stop working out indefinitely. I told myself I was just gonna take a couple weeks or maybe a month to let everything heal, and then get back to it.
Yeah right.
After working with hundreds of clients in the S2B Coaching Program, and helping dozens of people at my gym in Denver, I know it rarely works out that way.
Despite his best intentions, whenever a guy stops working out or takes an extended break from training because of an injury, he almost always gets out of shape and stays that way.
He does the exact opposite of what he really wants to do: He loses muscle, gains fat, and sometimes even starts to become a little depressed.
For most guys, their decline from in-shape to out-of-shape starts small and builds into something huge. Because of this, most guys don't see it coming until it's too late.
How To Outsmart an injury: Drive Around The Wall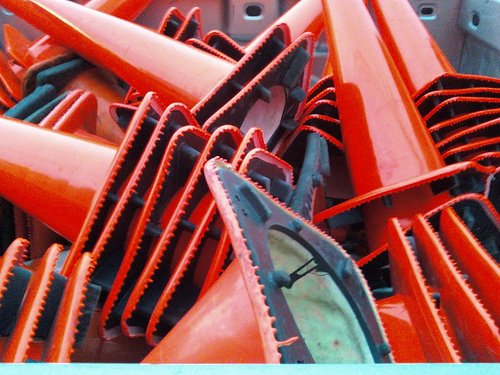 A few years ago, I was at a driving course behind the wheel of a car, doing 60 miles-per-hour. An instructor was seated next to me, leaning over and alternately watching my speedometer and looking through the windshield on his side.
"A little left… hold that… ok, good."
This guidance was necessary because most of the windshield was covered by a large piece of cardboard, leaving just a little opening on the passenger side for the instructor.
I was driving blind.
A few seconds later the instructor yanked the cardboard down and I saw a rapidly approaching wall of orange plastic road barriers. The tires shrieked as I locked up the brakes, crashed through the barriers, and came to a stop amidst an array of bouncing road cones and the sound of my friends laughing their asses off from the back seat.
The instructor took a sip from his coffee, looked over at me, and then glanced over to the field of grass to the right of the road we were driving on.
"There was no reason to crash." he said. "Everything around you right now is drivable terrain. Next time, steer onto the grass and go around the obstacle instead of driving into a wall."
I'm telling you this, by the way, because I see the same thing happen to guys who suffer minor injuries. The injury becomes a wall in their minds, and they can't see any way around it. The road they're on is the only way they know to get in shape and build a good body. And now that there's a giant wall in the way, they don't know what to do.
At that point, most guys either hit the brakes and stop working out, or they try to plow right through the wall and end up hurting themselves even more.
But I'll let you in on something: the road you're on isn't the only way to get strong and healthy and build a good physique.
And if you just happened to glance over to the right, you'd see lots of driveable terrain and a new path to follow to stay consistent and get in shape while your injury heals.
How TO Train Hard While Injured

Having an injury doesn't mean you stop working out completely. It just means you find some drivable terrain and continue training hard while your injury heals. Here are a couple common injuries and how I would consider structuring a workout program around them:
What to do with a shoulder injury
You now have the perfect opportunity to do a program that takes stress of your spine. Take a break from squats and deadlifts, and focus on developing stronger glutes and hamstrings with things like hip belt squats and barbell hip thrusts.
Also focus on increasing your hip mobility and learning how to better stabilize your spine.
By the time your shoulder is healed, your lower body will be stronger than ever and be primed for a squat and deadlift phase.
What to do with a back injury
These often result from underlying movement issues, so this is your time to focus on movement quality and doing single-leg lifts (lunges, step-ups, etc.) that avoid shear loading of your spine.
After spending time here you'll be more athletic, have a more stable spine, and stronger hips.
How To Gain Muscle With a Broken Leg
Jeremy is a current S2B client. Several months ago he was hit by a car while riding his bicycle and somehow ended up with only a broken leg.
When he joined the S2B Coaching Program, he was in a cast and couldn't do anything with his lower body. Even upper body stuff was difficult since he had to hobble around the gym on crutches or hop around on one leg.
A lot of guys would have said "screw it" and quit. In fact, they probably would have never joined a workout and nutrition coaching program while in a cast in the first place.
They would have rationalized that there'd be nothing for them to gain and that they should wait for their injury to heal and do the program later. (But as we've seen, "later" never really comes. It's simply an excuse.)
Jeremy had the courage and good sense to ask for help, though. And we quickly found him some driveable terrain. We wrote him a program that kept him off his leg and, quite often, on a pullup bar (among other things).
In the two months or so that he was in his cast, Jeremy gained nine pounds of muscle and went from a max of 11 pullups in one set to 20.
Not bad for a dude on crutches.
Getting What You Need
When I finally decided to man up and get some help for my IT Band syndrome, I learned some new workout and nutrition strategies that helped me heal my injury fast and helped me get in better shape overall. I built muscle, added strength, and generally felt better all-around.
But I also learned another important lesson: No matter what wall gets thrown directly onto my course, with a little coaching and support, I can learn to drive around and still be at my best, physically and mentally.
I can stay consistent with my workouts and nutrition, even when other guys are slacking and feeling guilty.
And that's a powerful thing to understand: Injuries or being "busy" doesn't hold you back. You hold yourself back.
So what's holding you back? A tweaked lower back or other injury? Chronic pain?
No matter what it is, believe this: You can still build a good physique, get healthy, and feel great. All you gotta do is find some help and look for some drivable terrain, a way around your obstacle.
Do that and you'll always be consistent with your workouts and nutrition and feel awesome because of it.
The S2B Team Is Hard at work
The S2B Coaching Program is currently closed as the team is in the middle of an intense research sabbatical. Click the link below to be notified when our next big project goes live. 
15 Responses to How To Stay Consistent and Train Around an Injury